Cape Wrath to Fort Augustus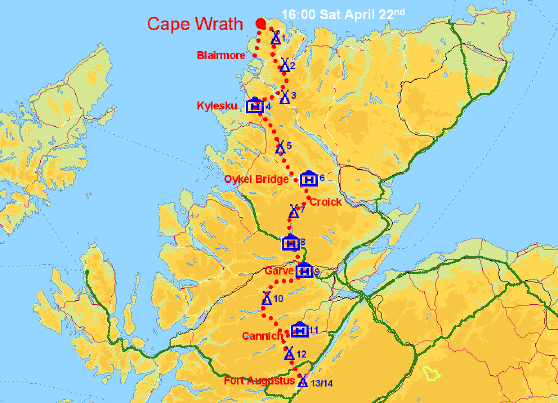 173 miles in 13 days
From Cape Wrath the route south was initially over rough ground going to the east of Foinaven and Arkle, past Loch Stack to Archfary and the Reay Forrest. Here Russ and I encountered the toughest walking of the whole trip negotiating the shoreline of Loch Dionard where it took us 2 hours to walk a mile in pouring rain over very rough and boggy ground. Then across to Kylesku and back to sea level before climbing to the east of Ben More Assynt and into Glen Oykel.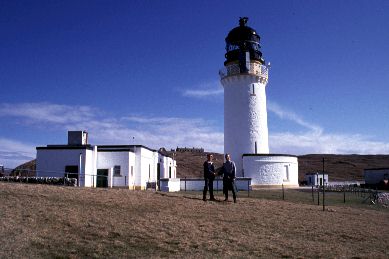 The Start; Cape Wrath, 4pm on Easter Saturday, April 22nd. It took all day just to get here from the nearest road at Blairmore
In brightening weather, although the northern winds kept it cold we made our way down Strath Cuileannach, up Glean Mor and down Strath Vaich to cross the Ullapool road at Aultguish before following the old road used for carrying fish from Ullapool to Garve. The first shop of the trip was in Garve, 9 days into the walk. Russ left me here to return to his drawing board and I set off alone with the weather breaking for 3 weeks of beautiful sunny weather and no midges. May is definitely one of the best months for walking in Scotland. Wearing just shorts and a tee shirt I made my way though Strathconon, the remote upper Orrin Valley, past Loch Monar to Glen Strathfarrar and Glen Cannich to Cannich. Following in the footsteps of Bonnie Prince Charlie who passed this way in 1746 I made my way on the old military road though the Guisachan Forrest to Fort Augustus in the Great Glen, the first major milestone of the trip, and a day of rest.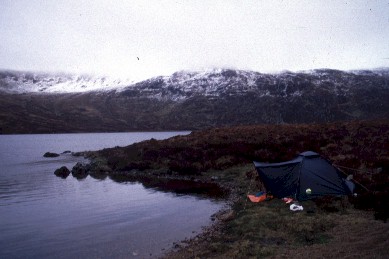 High camp just below the snow line by Loch Carn nan Conbhairean to the east of Ben More Assynt , a days walk from the nearest road