Dollar to Alston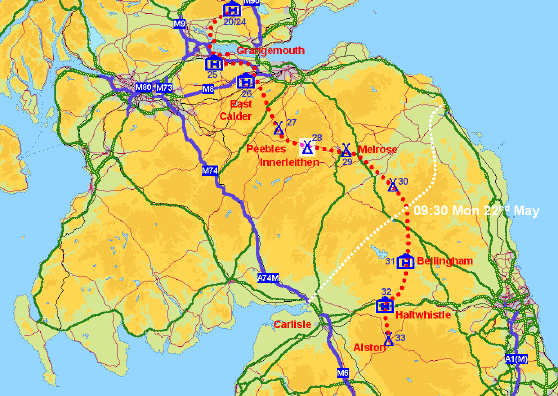 161 miles in 9 days
The hardest part over and carrying a sore leg I set off for the Border after 4 days rest. It took another week for the injury to clear and I could throw away the elasticated bandage and Ibuprofen. Apart from the odd blister or two, which came and went without causing any serious problem (thanks to a pair of Meindl Burma boots that lasted the whole trip), this turned out to be the only problem of the trip.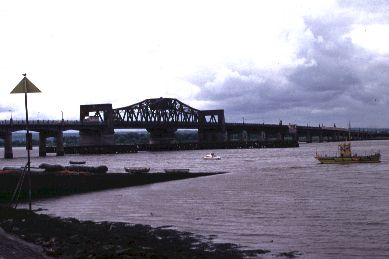 Crossing the Forth at Kincardine
The route took me across the Kincardine Bridge to visit my old employers BP in Grangemouth and upset friends still working I took early retirement from BP at the end of March. Using the tranquil banks of the Union Canal to I made my way though the busy Central Belt before crossing the Pentlands into the rolling green Border Hills dotted with patches of bright yellow gorse, though Peebles, Innerleithen and Melrose following the Tweed. Climbing out of the Tweed Valley into The Cheviots I crossed the border into England at 9:30 on May 22nd (exactly a month after leaving the Cape) at Black Halls to join the Pennine Way. The acorn symbol of the English National Trails was to be my guiding marker for most of the rest of the trip. Apart form a few detours I followed the Pennine Way down the spine of England to Edale.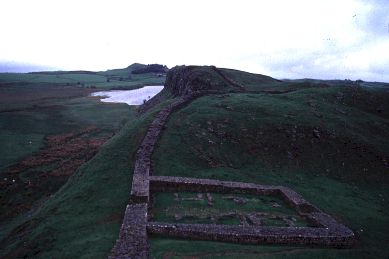 Hadrian's Wall was conquered from the North in spite of a strong westerly wind and squally showers.