Lowestoft to Kings Lynn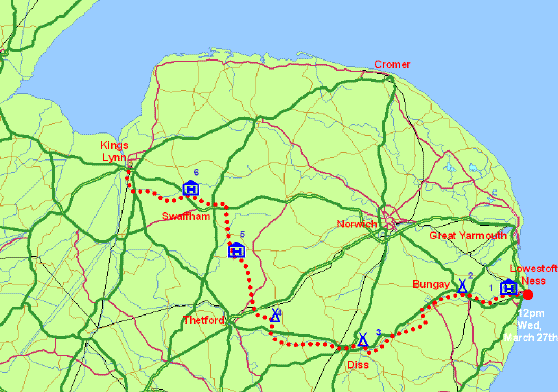 108 miles in 6 days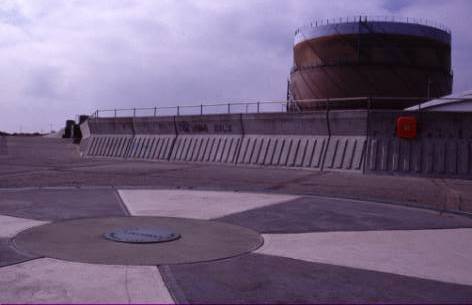 The compass marking the most easterly point with the local sewage works in the background.
The walk started at noon on a bright and sunny Wednesday March 27th in the middle of the industrial estate that surrounds Lowestoft Ness. Mike and Denise Tobin were there to send me on my way through the streets of Lowestoft to Oulton Broad and the banks of River Waveney. In no time I lost in the peace and quiet of the Norfolk countryside with just the occasional pleasure craft drowning the birdsong. The route took me on the Angles Way following the Waveney Valley through Beccles and Bungay to Diss. A surprisingly good and well way-marked path guided me through the gently undulating arable lands of the Norfolk/Suffolk border. I then turned north to pick up the Peddars Way through the forests and heathlands that surround Thetford. Here the Dover House campsite distinguished itself as the most expensive in the country, charging me 9.40 for the night. Double the average!! It was Easter Saturday and the facilities good but still a rip off. Weather good, dry and sunny during the day, but clear skies meant frosty nights and I woke up to find ice on the inside of the tent on more than one occasion making it harder than usual to crawl out of my sleeping bag in the morning. After leaving the Peddars Way at Swaffham I made my way on old drove roads over the highest point of my route through Norfolk, all of 91m above sea level, before descending down the Nar Valley to the fenlands at Kings Lynn. One week into the journey and only 320m of climbing.
Thanks to Mike and Denise Tobin for driving me to the start and supporting me across East Anglia. Along with Mike Peterkin, the landlord of The Bustard, South Rauceby, they organised a fund raising night at their Tuesday night Jazz Club.