Kings Lynn to Barton on Humber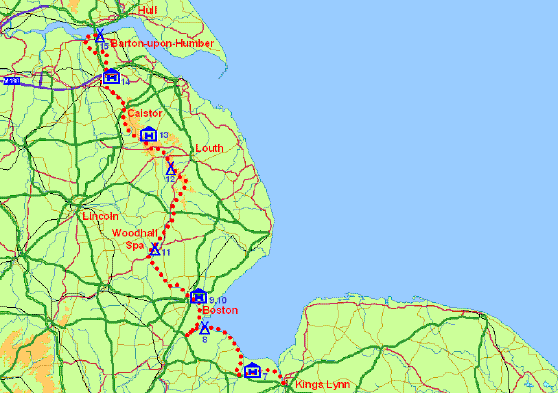 111 miles in 7 days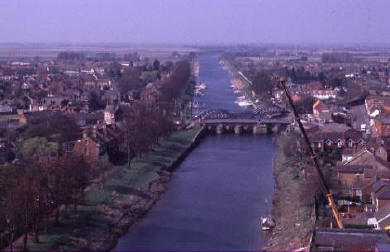 The view from Boston Stump looking north up the River Witham with Holland Fen behind.
The fenlands really are the back side of Britain. With no useable paths across the vast industrial farms the only route was along the sea wall of the Wash to Boston. With miles of featureless fields with few trees and fewer hedgerows on one side and mud flats stretching into the distance on the other, it is a truly remote spot. However the roar of the RAF jets practicing bombing the Holbeach range drowned the sound of the hundreds of seabirds. Mike Tobins company and jokes brightened up the final section into Boston.
After 9 days walking it was time for a day off in Boston and I spent the afternoon in the cinema watching Lord of the Rings. By now my body had adapted to the rigours of walking 8 hours a day carrying 17kgs on my back. For the first few days it was my feet that complained one day, then the knees followed by the back, the calves and so on as my fitness improved.
I left Boston along the banks of the River Witham to Woodhall Spa to join the Viking Way and into the Lincolnshire Wolds. After 4 days of level walking I was glad to have the fens behind me and be back in the hills. The section from Horncastle to Caistor was particularly enjoyable with easy walking on wide paths, good views across the Trent Valley and quiet villages. Fulletby, the 2nd highest village in Lincolnshire at a dizzy 130m above sea level, with its sandstone cottages and medieval church was typical. I camped at the Three Horseshoes in Goulceby well away from the bar because they advertised live music that night. It turned out that Johnny D., Derek to his friends, a Country singer was at least 97 and the half dozen groupies that comprised the majority of the crowd only marginally younger!
The last night in East Anglia was spent camped under the Humber Bridge at the Silver Birches Tourist Park and the owners Mr. and Mrs. Wainwright insisted I sit down and have a cup of tea with them before I put up my tent. It was a very welcoming, friendly and spotlessly clean campsite.