Richmond to Byrness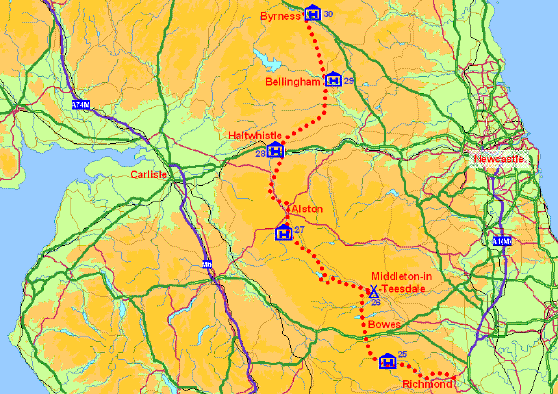 103 miles in 6 days
Now the serious walking started, as I headed up the spine of Northern England to the Scottish Border mainly following the Pennine Way. Leaving Richmond I followed the Marske Beck up a beautiful limestone valley and over Hurst Moor into Arkengarthdale. After 26 dry days I had to wear my waterproof for the first time on the climb across Dale Head Common to meet the Pennine Way just south of the A66 near Bowes. Considering the weather this summer I was very lucky with only 3 wet days south of the border. In general the wind was mainly from the north or the east, so although dry there was often a cold wind blowing which didnt encourage one to sit around and sunbathe! The day I crossed from Teesdale into the South Tyne Valley over the 650m bleak and exposed Herdship Fell a strong north westerly blew into my face all day. Even walking on the level was a battle against the wind and the climbing even tougher. I was extremely glad to drop down into the green fields of the valley and the old mining village of Garigill. Feeling shattered I knocked the door of the first B&B in town, to be greeted with an effervescent American welcome from Laurie who immediately tried to persuade me to stay at the Post Office which charged less than she did. But I had walked quite far enough for one day and was going no further. A good choice as I was shown into a large room and after a cup of tea and a shower I was fully recovered and ready for a couple of pints and my dinner in the George and Dragon just across the road.
Thanks to Laurie and Chris at Ivy House who donated the cost of my stay to the fund. Laurie and her husband Chris, run a Llama trekking business so if you fancy something different take a trip to Garigill, you will be guaranteed a warm welcome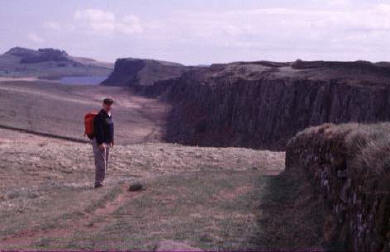 Ray Barton on Hadrians Wall
One of the most frequent questions asked was how are your feet? but I had no trouble whatsoever with blisters. Before the last walk I spent a lot of time looking for the ideal boot and decided Meindl Burma boots were the best. I also visited Diane, my local chiropodist, before leaving Dollar both were time and money well spent, unlike Ray Barton, a fellow BP retiree, who joined me in Haltwhistle, with an old pair of walking shoes. In bright sunshine we made our way along Hadrians Wall and through Kielder Forest until after 2 days his blisters got the better of him and I had to leave him to hobble home from Byrness on the bus. I much enjoyed his company and the chance to catch up with all the local gossip. Ray is now the proud owner of a new pair of walking boots!