Byrness to East Calder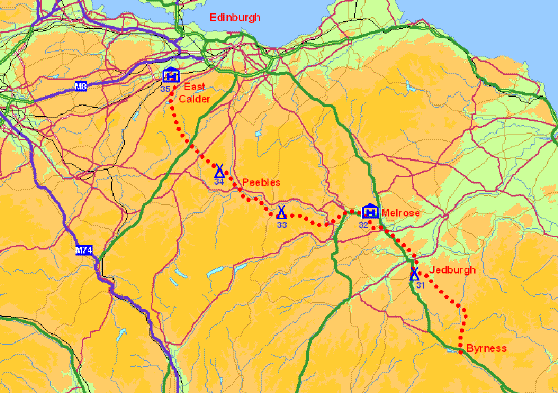 80 miles in 5 days
From Garigill to Dollar I retraced the route of my 2000 Cape to Cape route which I had thought might be a bit tedious, but although places where familiar, travelling in the opposite direction gave a completely different view of the countryside. The weather also made a big difference as to how one perceived the countryside. For instance the walk from Byrness to Chew Green along Windy Crag was a pleasant mornings stroll last time, but this year it was a very wet and windy slog in the clouds. However, as on all other wet days it only rained heavily for a few hours before the sky brightened and the rain slowly turned to drizzle before stopping. A couple of hours later the sun was shining I had dried out and my spirits revived.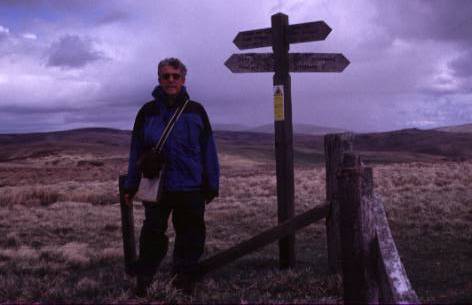 Crossing into Scotland at Black Halls in the Cheviot on day 31. 450 miles down, 300 to go.
The Sunday I left Melrose for Innerleithen was a busy day. First my wife, Nicky, who had come down to resupply me, walked with me in the morning sunshine along the banks of the Tweed for the first hour. Then just past Galashiels I caught up with 3 young Finnish exchange students, who kept me company for a couple of hours until the first rains of the day forced them back. They were out for the day making the most of the last few weeks of their stay in Scotland. Half an hour later I came across the ocal mountain rescue team on the Southern Upland Way near The Three Brethren. They were marshalling an annual charity walk from St Marys Loch to Selkirk organised by 2 local ladies to raise money for Cancer Research UK. Their route was in the opposite direction to mine, so for the next couple of hours I passed about a hundred walkers, far more than Id met on the whole of rest of the trip. The joke was Ill sponsor you per mile, if you sponsor me per mile! It brightened up an otherwise wet and miserable Sunday afternoon.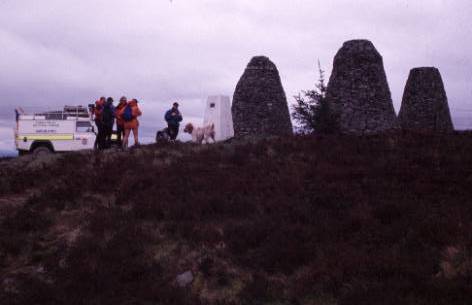 The local mountain rescue team marshalling a charity walk for Cancer Research UK on the Three Brethren, near Selkirk.
The wet theme continued and when crossing the Pentlands on the old drove road through Cauldstane Slap I was above the snow line for a short while, thinking What am I doing here? Cold and wet through I was glad to get to Glenalmond B&B in East Calder and a warm welcome from Pauline Mackenzie who remembered me from the last trip. She hung all my wet things, including my rucksack, up to dry in her utility room and even washed and dried my muddy waterproof trousers. Thanks Pauline.