East Calder to Callander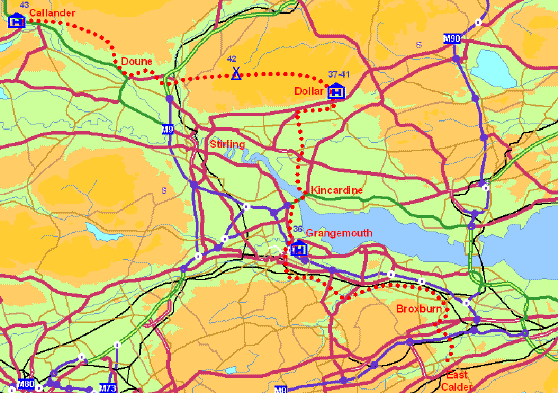 62 miles in 3 days
When I left the following morning, the clouds threatened but I managed to dodge the showers and had a most enjoyable day following the Union Canal to Falkirk. A lot of millennium money has been spent upgrading the canal and towpath; it is now a quiet and tranquil corridor through the Central Belt, the highlight being crossing the River Avon on the Telford inspired aqueduct 80ft above the river. At Grangemouth I couldnt avoid the hustle and bustle of the morning rush hour and seeing all the suits hurry past on their way to work made me appreciate my 2 mph lifestyle. Next stop was home in Dollar for a 4 day break over the May holiday weekend. En route I was interviewed over the phone by a reporter from the Wee County News as I crossed Kincardine Bridge and then intercepted at Sterling Mills by their photographer. Not to be outdone the rival Alloa Advertiser caught up with me at home and both articles appeared the following week.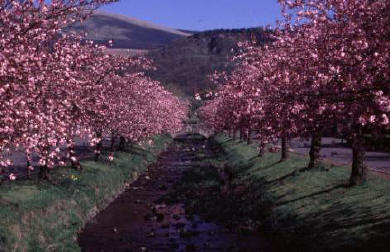 The cherry trees in full bloom on Dollars Burnside.
Leaving Dollar fully refreshed I was accompanied by a motley crew comprising hill walker John Stout, in boots, marathon runner Clive Litchfield, in trainers and Alistair Anderson in wellies, much to the consternation of the local sheep! They kept me company for the afternoons climb out of Dollar into the Ochils as I headed for Dunblane and then the old road to Callander.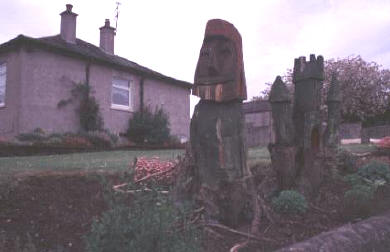 Tree trunk sculptures outside a house in the middle of a housing estate in Dunblane.
Thanks to Cilla Macinnes who made a special effort to take the afternoon off work and walk the last few miles into Dollar with me. Also to Sue and Mark Bellis of the Lenymede Guest House in Callander who plied me with red wine and donated a nights B&B to the cause.