Callander to Glenfinnan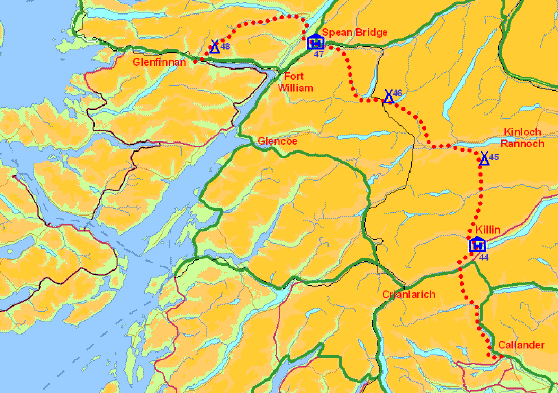 97 miles in 5 days
This was the most challenging and enjoyable section of the walk. I followed a route that Id planned using Scottish Hill Tracks published by The Scottish Rights of Way Society, a book that describes the major paths in Scotland, including many of the old drove and military roads. Some like the old drove road from Killin to Innerwick in Glen Lyon first shown on Stobies 1783 map of Perthshire are now nothing more than open moor. After a night of heavy rain it was also extremely wet underfoot and hard work.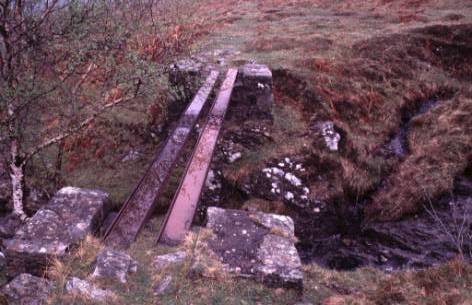 Old girders used to make a bridge near Killin. It required a great deal of care to cross in the wet.
Sylvie and Dick Dalley and their dogs joined me for the climb out of Callander. We followed the old railway line, past the Falls of Leny to the banks of Loch Lubnaig. A series of cols and glens followed; up and down from Strathyre to Glen Dochart to Glen Lyon to Rannoch to Glen Spean and the Great Glen. Climbing out of Rannoch I crossed the east/west watershed in the Corrour Forest. For the previous 45 days all the water Id passed flowed into the North Sea. As I dropped down to Loch Ossian the water was now flowing to the Atlantic; the end was finally in sight. The best day of the whole trip followed, past Loch Treig and through the Lairig Leacach (pass of the flagstones) on the edge of the Mamores to Spean Bridge. Here I bumped into the first of several TGO challenge walkers I passed that day. It is an annual coast to coast walk organised by The Great Outdoors magazine. I left my rucksack on its own outside the Spar shop and when I came out a long line of huge rucksacks dwarfed mine, making it look quite pathetic or highly efficient depending on your point of view!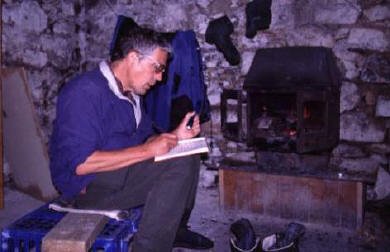 Drying out in front of the fire and writing my diary in the bothy at Wauchan.
As on the previous walk my only rule was that I was not allowed to use any form of mechanical aid on the journey, which meant I couldnt use the ferry to cross into Ardnamurchan so I had to make the long detour north to Loch Arkaig before heading west through the wet and wild col between Glen Mallie and Gleann Fionnlighe before turning south along the banks of Loch Shiel. Descending the gleann the rain started but luckily I came across a bothy built onto the side of a tumbledown farmhouse at Wauchan. Here I hid from the rain which poured down all night long and it saved me from having to put up the tent in the rain. There is nothing worse than having to undress and climb into a small one man tent when one is wet through.