Glenfinnan to Ardnamurchan Point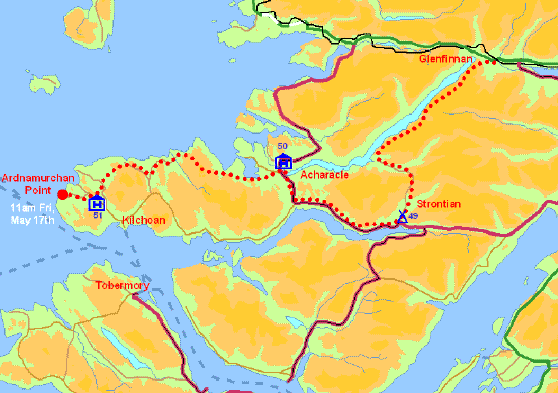 60 miles in 3 days

The north coast of the Ardnamurchan Peninsula with Ockle Point in the foreground and Arisaig behind.
It took all morning to walk along the banks of Loch Shiel to Polloch. Unfortunately the expected views were hidden by low cloud and rain. Occasionally the skies brightened and the rain eased, each a false hope as the next cloud blew through 5 minutes later. The description of the path to Strontian warned . Is liable to be very wet and boggy After such a wet morning I was not in the mood for another afternoon up to my ankles in mud and water so I opted for the easier and quicker road walk. The ideal terrain for the long distance walker is one where you can maintain a steady pace and it does not take much persuasion to take the easy, less interesting route as rough wet and boggy paths only tend to frustrate. After Polloch the skies cleared and I had dried out by the time I reached the col above Strontian and my first view of the sea and Ardnamurchan. The path along the north coast of the peninsula vied closely for the best day award. From Acharacle I skirted the sands of Kentra Bay before climbing into remote and rugged hills before dropping back down to the coast at Ockle. The views north over the cliffs to The Small Isles with Skye and Arisaig in the distance were truly spectacular. Near Achnaha I traversed a large circular plain about 4km in diameter and surrounded by low gabbro hills, which are all that remains of a once great volcano.
The last night was spent in the most westerly hotel in Britain, The Sonachan Hotel. A short stroll to the lighthouse at Ardnamurchan Point saw the end of another enjoyable and successful journey across Britain. It ended on Friday May 17th as it had begun, on a bright and sunny day with primroses in the hedgerows and lambs in the fields. For the last 52 days I had enjoyed an extended spring as I slowly moved north and west.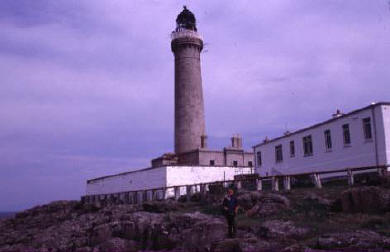 The end of the road, the lighthouse at Ardnamurchan Point.
Thoughts now turn to what to do next and I think that in 2003 I will spread the load and rather than one person walking 750 miles I hope to organise a walk with 75 people walking 10 miles. Watch this space!
A final thanks to Ray and Enid Barton for driving out from Dollar to Ardnamurchan to join me for my last night and walk the final leg to the lighthouse before giving me a lift back home. They also raised a magnificent 200 in sponsorship.